Applies to Models: ARN, QRN, XRN, PRN, and HRX series recorders
To maintain standards, Hanwha Vision America uses the web UI for all knowledge base articles about product configuration. Open Chrome, enter the IP Address of your device into the URL bar, and press enter. If you are not using the web UI to configure your device, please refer to the user manual for your product.
Summary:
Suppose you need to register several cameras at once. In that case, there is a utility in the Register screen called "Auto Detect" this utility lets you register multiple devices and change IP addresses in cameras.
Step By Step Guide:
1. Go to Setup>Camera>Register (Figure 1)
2. Click on Auto Detect (Figure 1)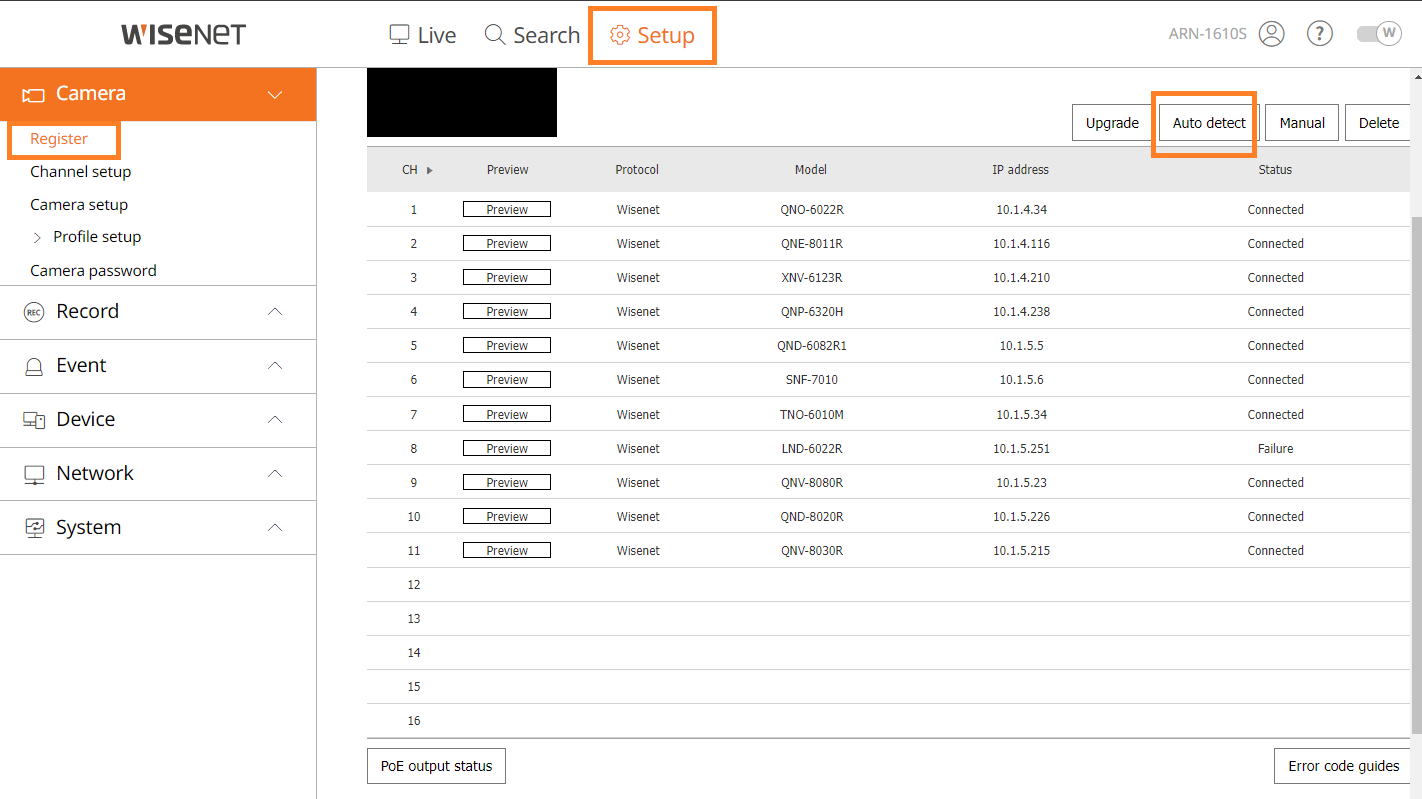 Figure 1
3. If the recorder finds cameras on Network 1, it will display the results in the open window (Figure 2)
NOTE: The Auto Detect function may sometimes find third-party devices, do not add
any third party devices using the Auto Detect feature uses the Wisenet Protocol, not ONVIF
4. If the camera is in a default state, the Status column will say Password Setup (Figure 2)
5. Put a Check in the box to the left of the camera(s) you wish to add (Figure 2)
6. Enter 4321 into the Password box (Figure 2)
7. Click Test Connection (Figure 2)
NOTE

: The root login username for Hanwha cameras is: admin (all lowercase),
the password gets set by the installer by entering 4321 into the password
box, you are telling the application there is no password set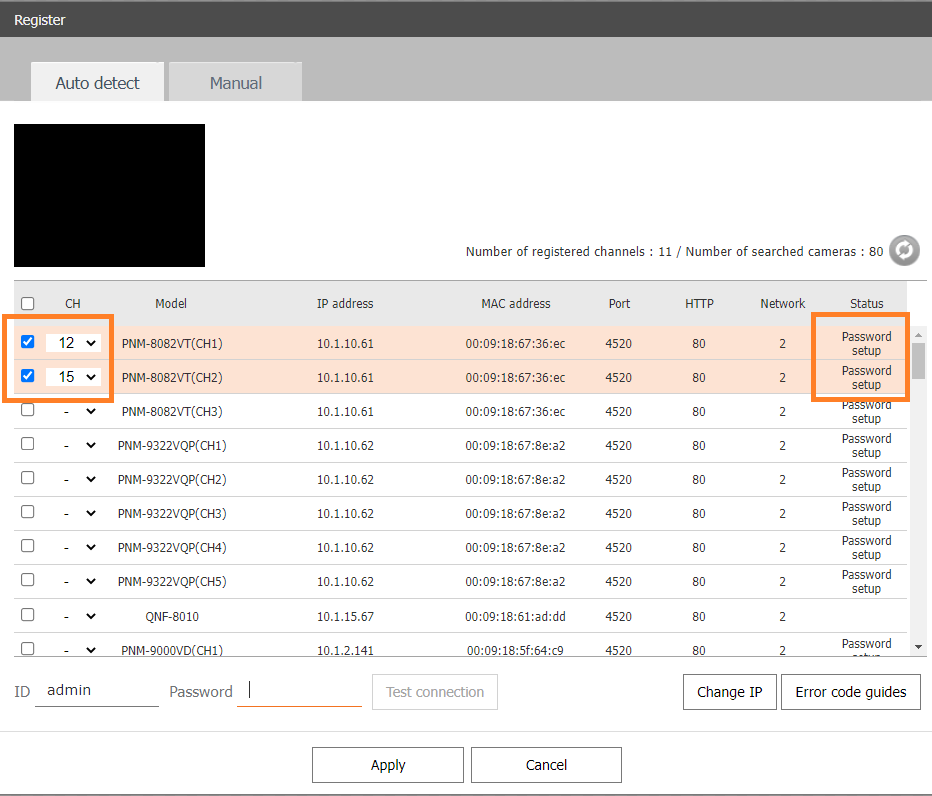 Figure 2
8. If the registration succeeds, the Status column will say Connected (Figure 3)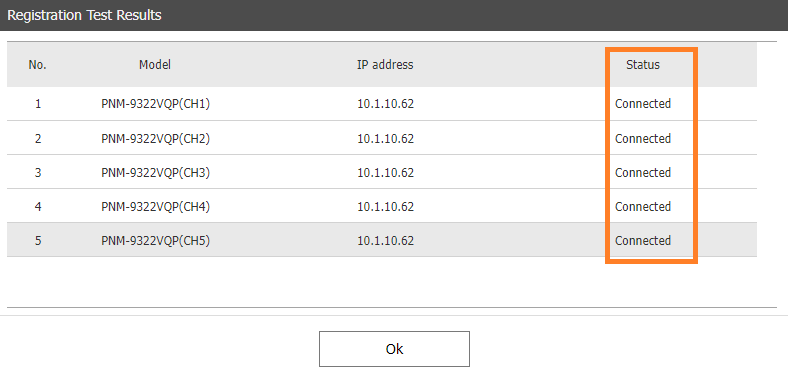 Figure 3
9. The Auto Detect screen will show Success (Figure 4)
10. Click Cancel on the Auto Detect screen when you are done registering cameras (Figure 4)

Figure 4
11. Make sure to click OK at the bottom of the registration screen, or all unsaved changes will be lost (Figure 5)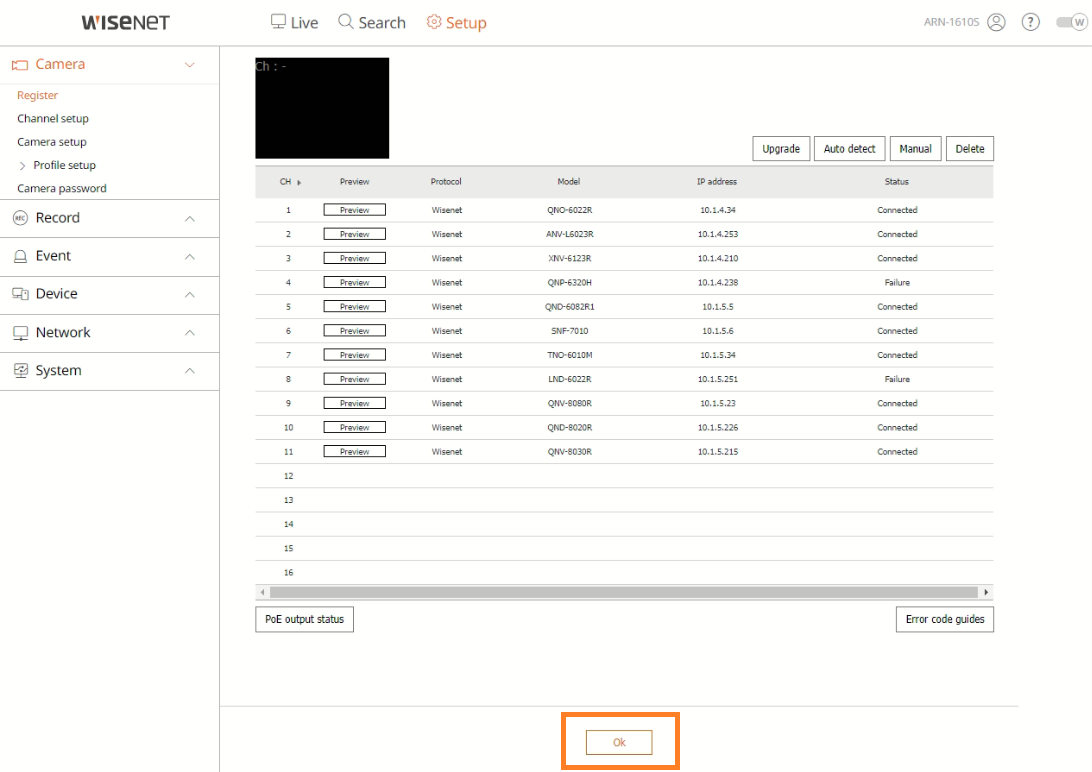 Figure 5