Applies to Models: XRN, QRN, PRN, HRX, HRD, & ARN recorders, and all network cameras
To maintain standards, Hanwha Vision America uses the web UI for all knowledge base articles about product configuration. Open Chrome, enter the IP Address of your device into the URL bar, and press enter. If you are not using the web UI to configure your device, please refer to the user manual for your product.
Summary:
NVRs, DVRs, and Cameras can be accessed remotely using different communication protocols; your network administrator must confirm that network traffic has been appropriately "routed." In order to activate the routing, you must obtain the Public IP Address that is assigned by your Internet Service Provider (ISP.) DDNS provides a static method of accessing devices that are connected to the Internet with a Dynamic IP address provided by their ISP without the need for a Static IP address. This process is required if the customer's site configuration does not allow the P2P option to function properly.
NOTE

: Hanwha Vision America recommends that only an experienced network 
technician make these changes. This process involves opening ports to the
internet, which is a security risk. Another option would be for the client
to use a VPN connection into their network, however this option is not 
possible for mobile devices, since connecting to a VPN via mobile would
route all of your mobile traffic through the clients VPN
Step By Step Guide - DDNS Account Creation:
NOTE: DDNS does not open ports for you, unless you use the Quick Connect feature.
Quick Connect also needs UPnP enabled on the network, you will need to check if 
the ports you need are open from a network outside of the NVR/DVR's local 
network. Hanwha Vision recommends that only an experienced network technician
make these changes.

For a list of the ports commonly used by our recorders, click >Here<
The Port menu for the NVR/DVR is found under network>Interface>Ports
The Port menu for IP cameras is found in the menu under Basic > IP & Port > Port
Any ports reading closed need to be set to open and traffic routed to the NVR/DVR's
IP Address on the internal network

1. Access our free Hanwha DDNS site >Here<
NOTE: Hanwha's DDNS service allows the system administrator to connect to the NVR/DVR using
a unique system ID, that must be created at the DDNS portal instead of a dynamic WAN IP
2. Click under the Signup option
3. Fill in the required information and complete the account signup
4. Login with the newly created account
5. Go to the MY DDNS option
6. Create a unique device ID
Step By Step Guide -NVR DDNS:
1. Log in to your NVR via Chrome(Figure 1)
2. Navigate to Network>DDNS (Figure 1)
3. Enable DDNS for Network 2 (Figure 1)
4. Select your DDNS service (Figure 1)
NOTE: DDNS-Hanwha-security.com is our free DDNS servers operated by Hanwha in our
HQ in Korea, if your ISP is not allowing connections to non North America Servers, 
then you will need to use the other DDNS options on the list
5. Enter the Product ID you created on our site (Figure 1)
6. Check Quick Connect (Figure 1)
7. Click Ok (Figure 1)
NOTE

: DDNS is similar to call forwarding, in that all it does is forward you to
the clients public IP, the recorder will ping the DDNS server daily providing
the server a known public IP, if your port forwarding rules are not properly 
configured, you will fail to log in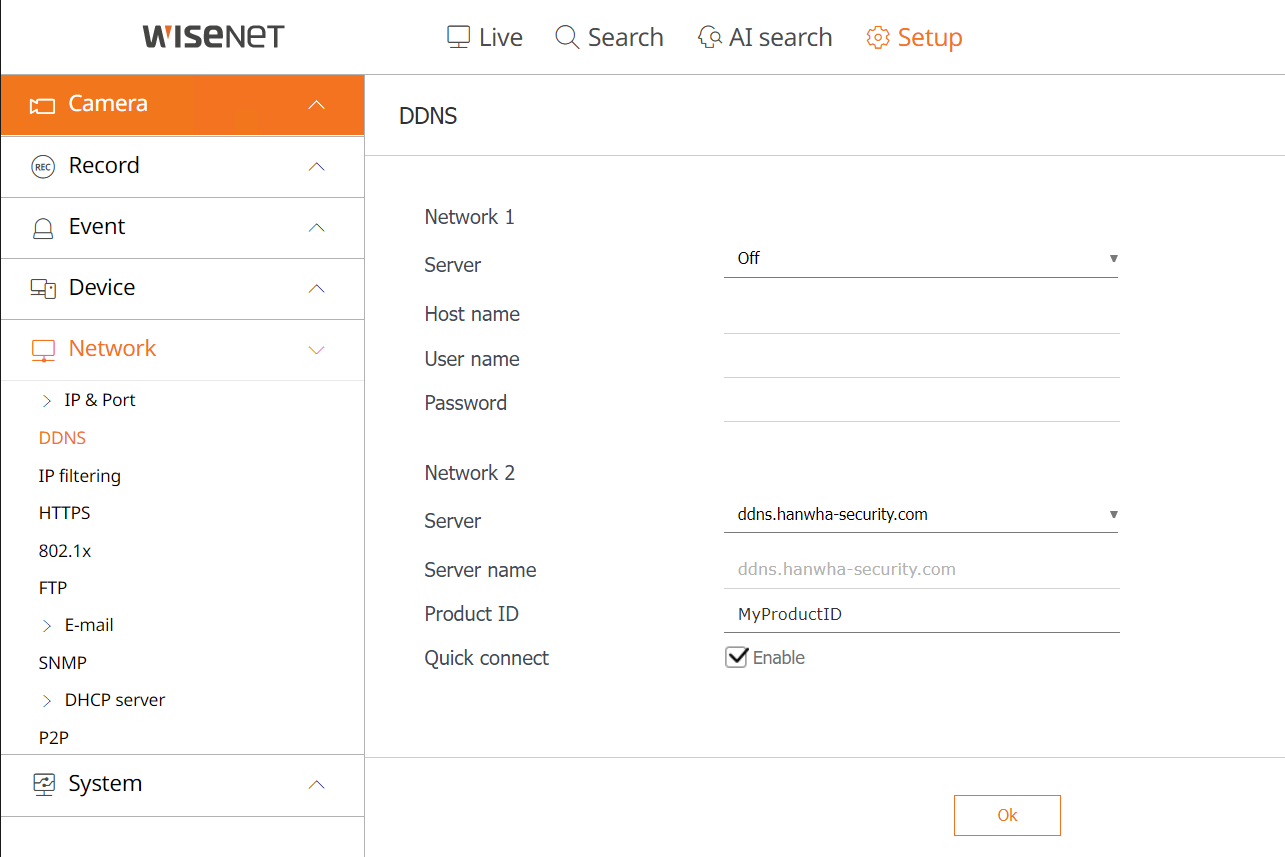 Figure 1