The Attach ID
The Attach ID is a 16-digit number composed of upper case letters and numbers in groups of four (for example, 55A5-55A5-55A5-55A5). When adding an Wisenet SKY Bridge/CMVR to an Wisenet SKY VMS Account, the Attach ID will be required. When you receive an Wisenet SKY Bridge/CMVR, the Attach ID will be included with the unit.
Log in with an HDMI Monitor and Keyboard
Plug in an HDMI monitor and keyboard to your bridge.
Log in to the Wisenet SKY Bridge/CMVR using the user name and password provided by Wisenet SKY.
The local login credentials are different than the credentials used to log in to the Wisenet SKY
Cloud VMS.  If you do not know how to log in locally to the bridge, please contact Technical 
Support with your Support PIN
Finding Attach ID
From the main menu, select System Info.
TIP: Use <TAB> to navigate between elements and <ENTER> to select, and <SPACE> to press buttons.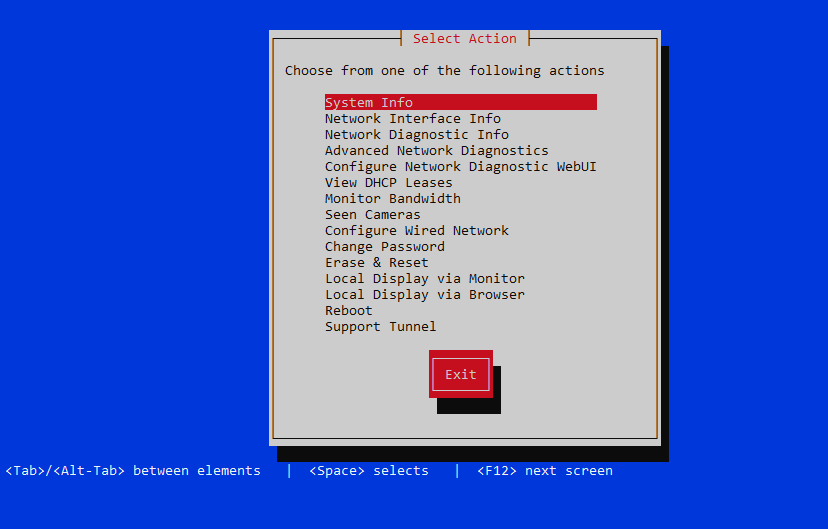 The Attach ID will be displayed in the System Info window.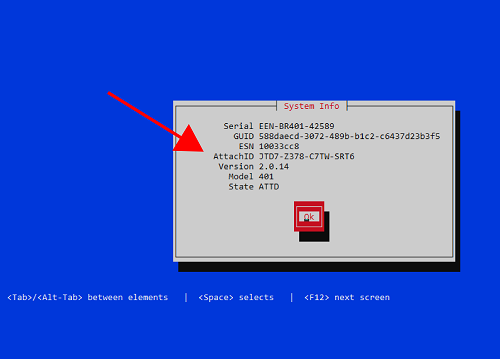 Method 2: Log in with a PC
Connecting via PuTTY
Download PuTTY
Ensure your laptop's network interface is set to DHCP
Connect your laptop directly into the CamLAN port of the bridge/CMVR
Run Putty
Enter 10.143.0.1 into the Host Name bar
Enter 22 into the Port Name bar
You may receive a PuTTY Security Alert, select No
Enter the login information provided by Wisenet SKY Networks support.
Select System Info and the Attach ID will be in the information displayed.