Applies to Models: Wisenet Sky
Summary:
This article details how to create layouts allowing the user to quickly bring up multiple cameras at once. When creating layouts the client may want particular camera views grouped together. This is the logical reason for layouts.
Step By Step Guide:
1. Navigate to the layouts section on the Wisenet Sky dashboard. The layout's tab will be highlighted in orange.
2. Click on "Create a Layout" on the right side and a list of cameras that are available to add will populate.
3. Check the box next to the cameras you would like to add to the layout.
You can also filter the cameras by their names or the "tags" 
that have been assigned to them.
4. Once you choose the cameras that you want to add, click Add Cameras. A new layout will be created with those cameras.
Creating and Editing Layouts:
At the top left of the layout screen, there is an orange button that has the name of the selected layout on it. If all cameras are selected. It will be named "all."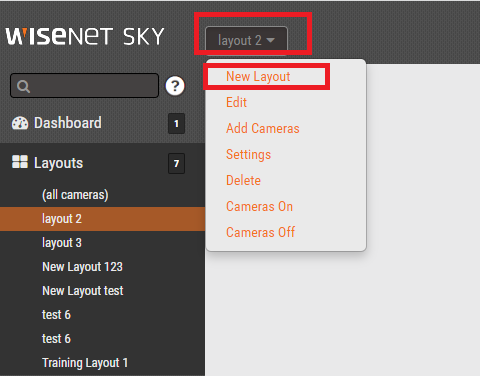 Click the orange button with the name of the layout and a drop-down menu will appear.
From the Drop-down menu:
1. New Layout
Click New Layout from the menu to create a new layout.
2. Edit
Click on the menu and select Edit.
From here you can rearrange the cameras by clicking and dragging.
You can also delete cameras by clicking on the red "X".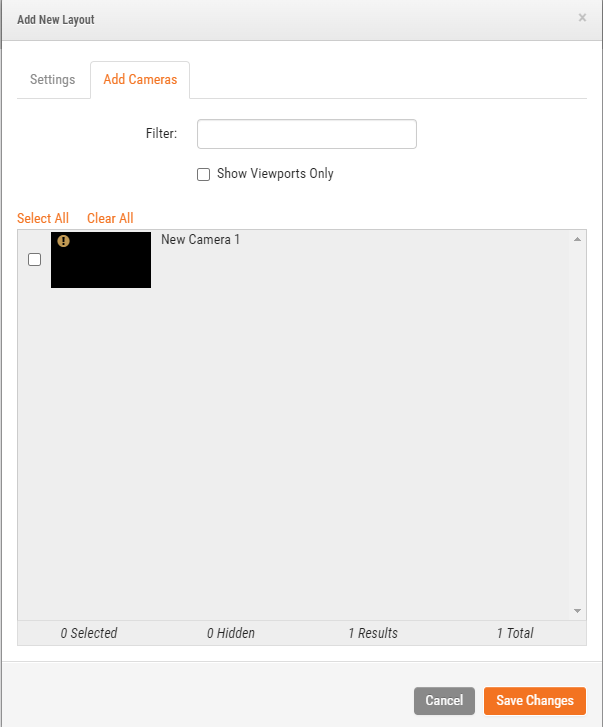 3. Click Save.
4. Add Cameras
5. Select Settings.
6. Here you can modify:
The aspect ratio of the cameras selected.
The name of the layout.
The number of cameras you would like to have per row.
The names of the cameras.
Whether or not the cameras have borders around the frame.
NOTE: You can also create a custom ID for the layout. Always click save before exiting a 
screen
Deleting a Layout:
NOTE: There is no undo. Make sure you have the correct layout selected.