Summary:
While Wisenet SKY currently supports 3,000+ cameras, we are constantly developing support 
for newer models due to the sheer number of cameras on the market.   Non-supported cameras 
may show up in the Wisenet SKY Eye Dashboard with a message  "this camera is not supported"
after the name, and the "+" icon is replaced with an envelope icon as shown below. 
If the camera you are trying to add is ONVIF compliant and shows as unsupported, 
please request support.  
 Our current list of supported cameras can be found here. It's always best to review this
   list before purchasing cameras for your Wisenet SKY Eye Networks system
How to request camera support:
To request support click on the envelope icon under Actions next to your camera in the list of available cameras.
  If your camera doesn't appear in the list, please check that ONVIF is enabled. 
    Need help configuring your camera? Please check out Knowledge Base for guides on how 
    to configure your specific brand.  If you are still having trouble getting your 
    camera to show as unsupported, please contact technical support and we would
    be happy to assist.  

A window will pop up asking for specific information that we can get from the camera (i.e. Make, Model, IP address.) You will need to provide some additional information such as your contact information as well as the username/password for the camera.
  The root username/password is required to create support.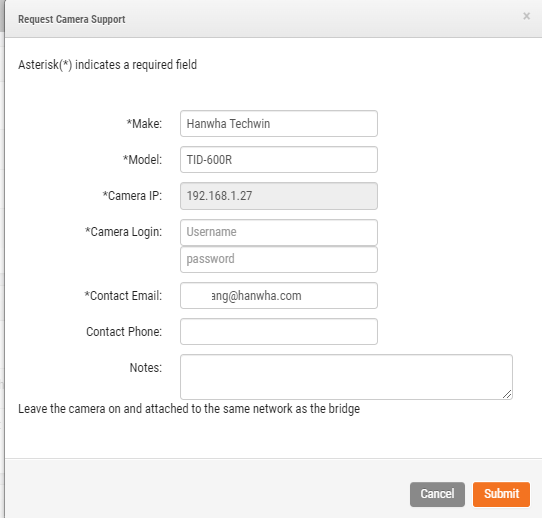 After all fields are filled out, request support by clicking Submit.
   Please leave the camera connected to an online bridge while we develop support.  
     If the camera is disconnected from our platform, we will not be able to develop support.
Once a camera support request has been submitted, it will take approximately 2-5 weeks to develop support. During this process, we may contact you to verify the information. We will notify you as soon as support has been completed. If you have questions about this process, you can email to supports@hanwhasecurity.com and one of our support staff members will be happy to assist you.