Summary:
Wisenet SKY offers the option to share cameras with other Wisenet SKY users who are on 
different accounts. This article illustrates how to share cameras with other Wisenet 
SKY VMS users who are on different Wisenet SKY account.
   Cameras cannot be shared with persons who are not Wisenet SKY VMS users.  
How to share cameras:
1. Navigate to "Account Settings" by clicking your name in the top right corner of the Web UI, and select "Account Settings"
from the menu.
2. Navigate to the "Sharing" tab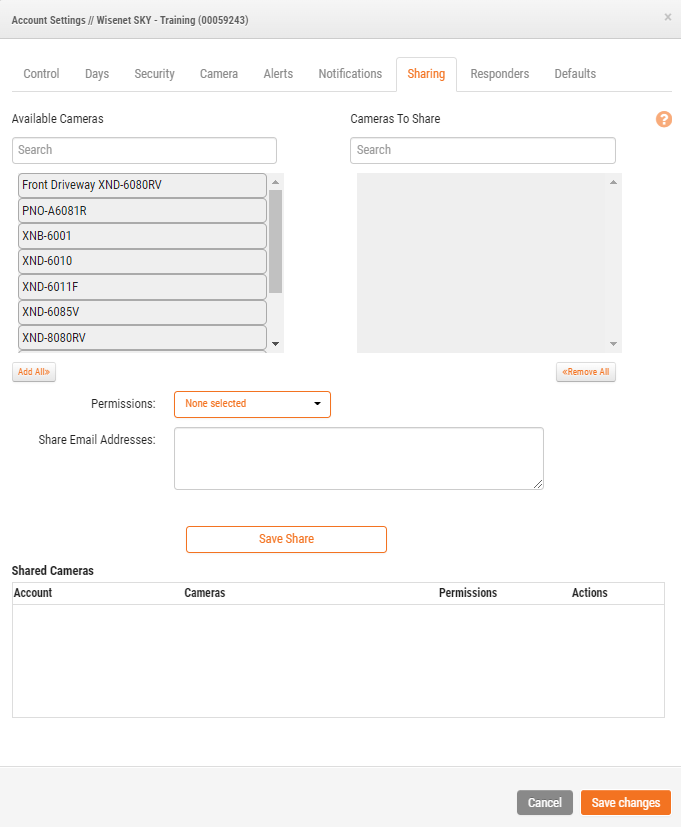 3. Move the cameras you wish to share from Available Cameras to Cameras to Share.
4. Enter the email of the Wisenet SKY user with whom you wish to share the cameras

5. (Optional) Give the Wisenet SKY user permissions to edit settings on the camera.

6. Click the Save Share button

After saving, the email of the user will appear in the Shared Cameras section along with the names of the cameras shared, permissions, and the option to edit or delete.