Summary:
This article will help you improve playback through the Wisenet SKY VMS through local 
settings.  If you are experiencing slow load times for historical, live, or preview video, 
please follow the steps below to help troubleshoot your local settings
Tips for speeding up viewing video on your PC:
1. Use Google Chrome
We recommend using Google Chrome for the best Wisenet SKY VMS performance.
 TIP: Try signing out and signing back into the Wisenet SKY Dashboard.   
          Refreshing the session may improve load times                         
2. Clear the Cache in the Browser
• Navigate to Chrome's settings by clicking the three dots in the top right corner of the browser.
• Find the "Privacy and Security" section.
• Click Clear Browsing Data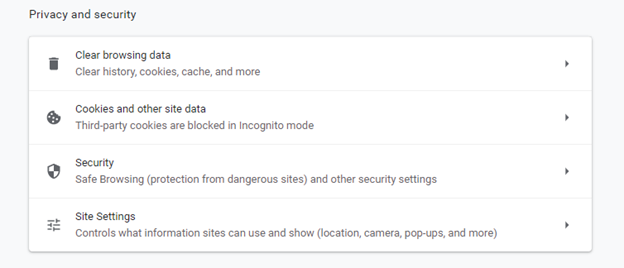 • Select "Cached images and files" and "Cookies and other site data." and then press the Clear data button.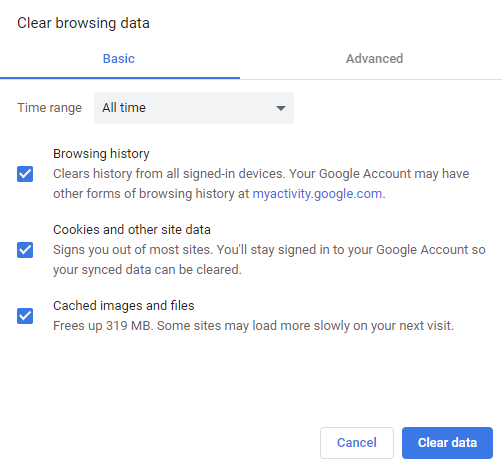 Tips for speed up Video on your mobile App
1. Log out. Close the Wisenet SKY Mobile App entirely, and then log back in. Sometimes, refreshing a session in the app will help with load times.
2. Clear the Cache for the Wisenet SKY Mobile App.
a) Navigate to your mobile device's settings.
b) Find the Wisenet SKY app and select.
c) Select Clear cache.
 All mobile devices will have different methods for clearing the cache on an app. 
Please consult your mobile device's support for specific steps.
3. Delete and Reinstall the Mobile App.
Make Sure The Wisenet SKY Bridge/CMVR is Receiving the Recommended Bandwidth
Please see our knowledge base article Bandwidth Usage and Recommendations.
Tips for reducing the amount of Bandwidth the Wisenet SKY Bridge/CMVR is using:
1. Adjust the motion settings in your cameras.
Most cameras are set to event record by default. The more often that cameras record, the more bandwidth they will need to upload footage to the cloud. Make sure the cameras' motion sensitivity is set at the correct level. By default, each camera is set to a sensitivity of 80% although every camera may need to be adjusted to fit the scene that the camera films. Finding a sensitivity level that records meaningful events (ex. A person walking) and isn't triggered by unmeaningful events (ex. the flicker of a shadow) can save you bandwidth.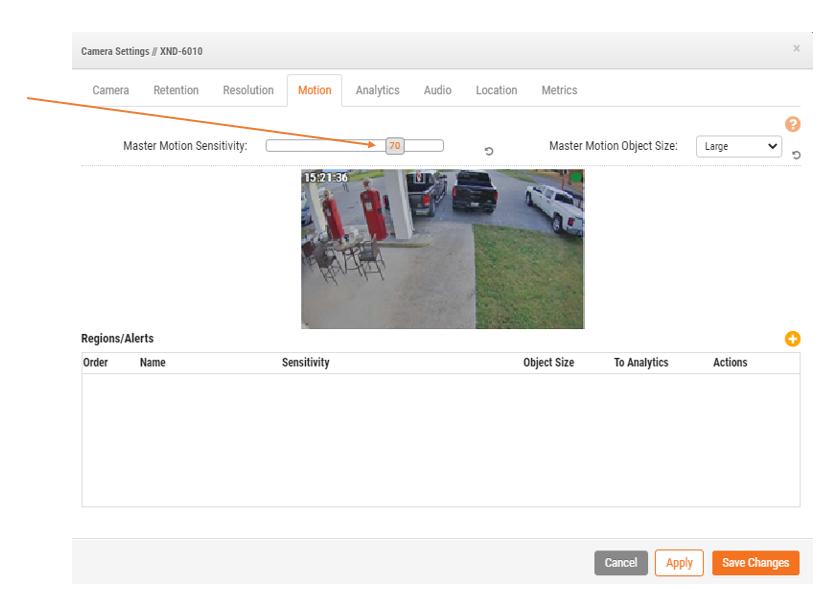 1. Create Motion Regions around objects that trigger constant recording.
It is a good idea to create motion regions set to 0% sensitivity around objects that may trigger constant recording, for example, a tree in the wind or a television set.
For full details, please see our knowledgebase article Masking Out Motion Regions