Applies to Models: All Hanwha Techwin America NVRs not running Linux or Windows
To maintain standards, Hanwha Vision America uses the web UI for all knowledge base articles about product configuration. Open Chrome, enter the IP Address of your device into the URL bar, and press enter. If you are not using the web UI to configure your device, please refer to the user manual for your product.
Summary:
Before registering third-party cameras to Hanwha Recorders, the unit must be placed in Manual Mode. This article provides a guide on switching modes and registering cameras from Third Party Manufacturers.
NOTE

: All Hanwha NVRs with built in POE switches have Plug and Play (PnP) enabled
by default. Recorders with POE switches are identified by the S at the end of the
model number.
Example: QRN-1610S
Step By Step Guide:
1. Navigate to Setup>System Management>Settings on your NVR (Figure 1)
2. Uncheck Enable PnP Mode (Figure 1)
NOTE

: Manual Setup Mode has many benefits:
The ability to register any ONVIF compliant camera
The ability to register cameras utilizing RTSP URLs
The ability to register multi-directional cameras
The ability to register cameras with the use of additional network
devices such as switches and midspans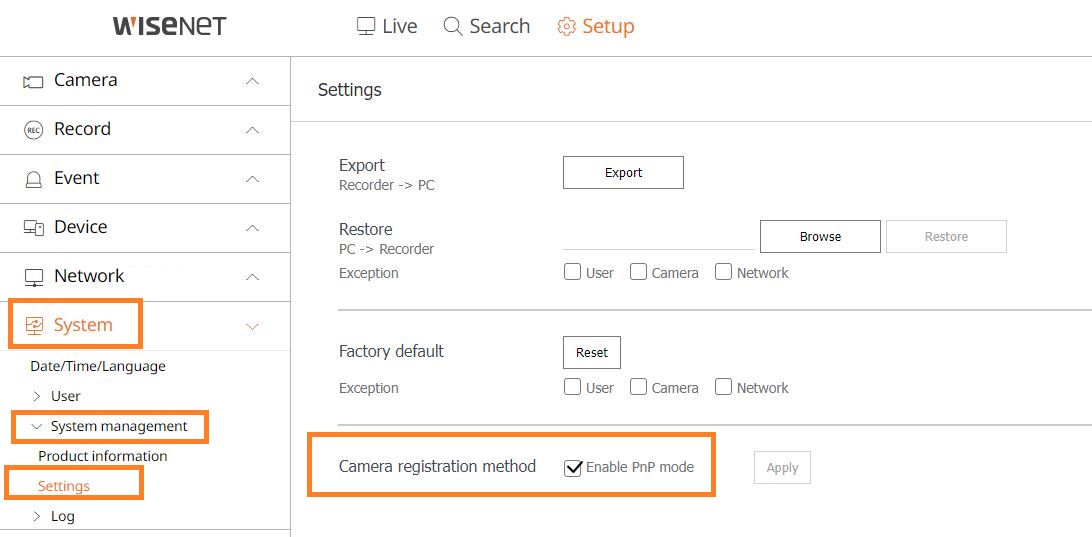 Figure 1
3. Identify if your Third-Party Camera supports ONVIF
NOTE

: You need to verify that your camera supports the ONVIF protocol with the
manufacturer of your device, Hanwha Support does not have this information in
most cases
4. Test out the ONVIF Protocol using ONVIF Device Manager
NOTE

: Download the ONVIF Device Manager here(link will open in a new tab)
This tool will let you know if your device works with ONVIF
5. Register the cameras by going to Camera>Register (Figure 2)
NOTE

: It is possible for popular brands of third-party cameras to be discovered
using the Auto button (Shown in Figure 2.) Do not do this, our Auto button 
defaults to registering a camera using our proprietary protocol, this will cause
the camera to register, but not work
6. Click Manual (Figure 2)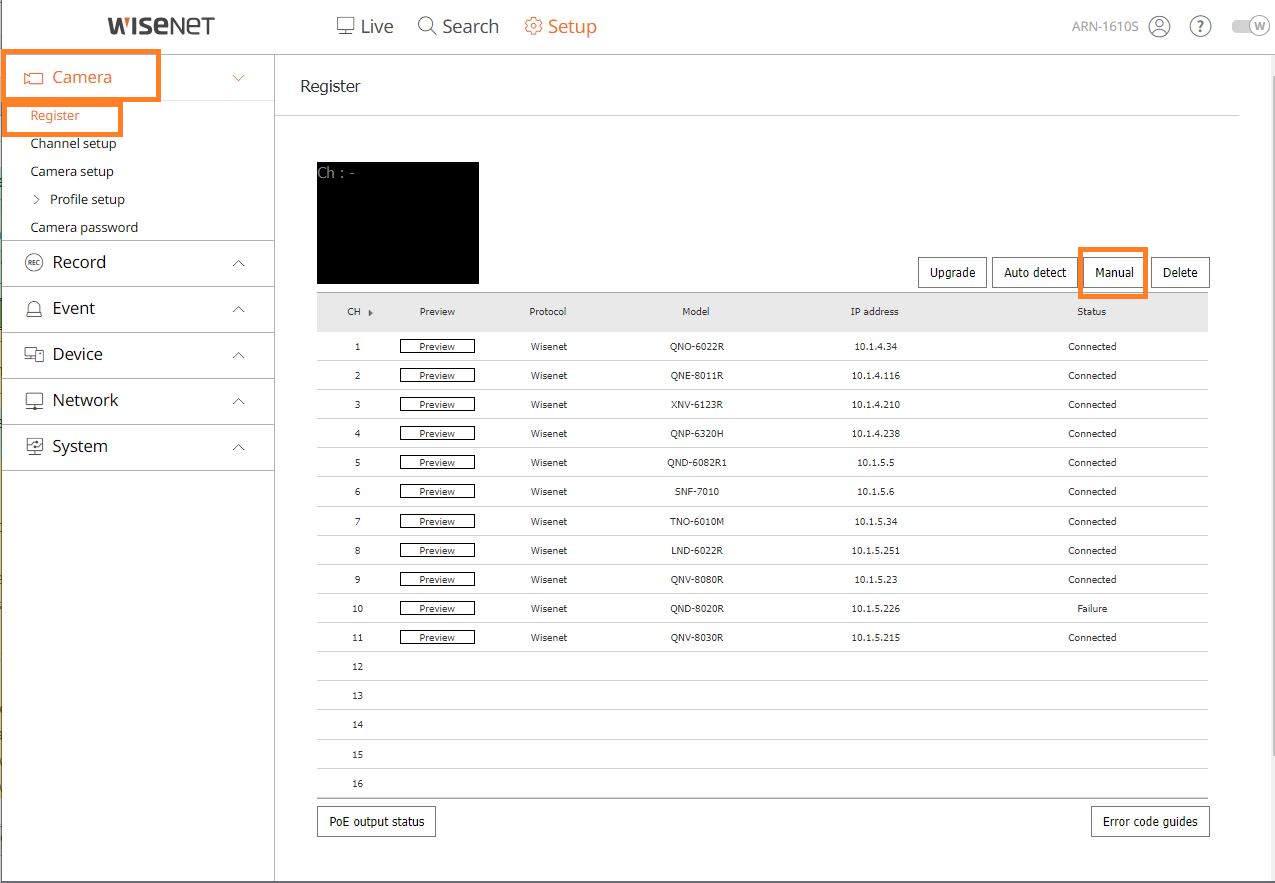 Figure 2
6. Select ONVIF as the Protocol (Figure 3)
NOTE

: ONVIF requires the Time, Date, and Daylight Savings information be
synchronized between the NVR and the camera in question
7. Enter the IP address of the camera (Figure 3)
8. Set the ONVIF port to 80 (Figure 3)
9. If the camera is a multi-channel camera, enter the channel you wish to register (Figure 3)
NOTE: For third party multi sensor cameras, you will have to register each 
channel manually one at a time
10. Enter the proper credentials for your camera (Figure 3)
NOTE

: If your camera manufacturer requires separate credentials for ONVIF, enter
those credentials into the ID and Password fields in Figure 3
11. Click Apply to begin the registration process (Figure 3)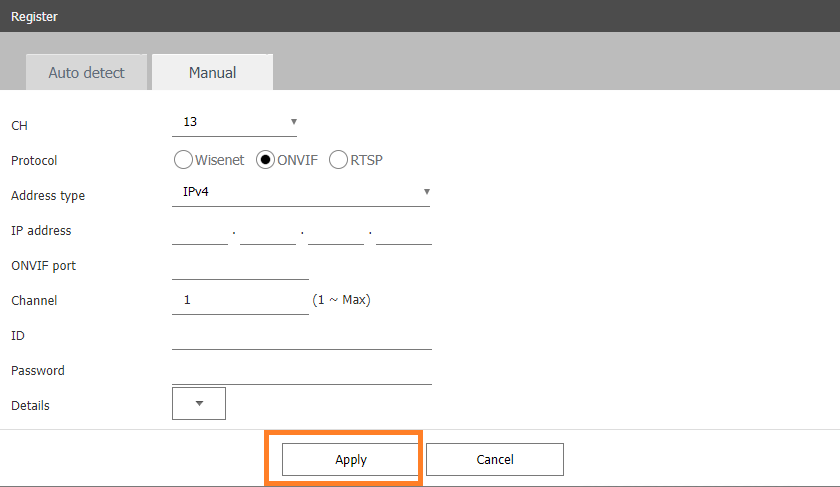 Figure 3
12. Once you have finished registering the camera(s), remember to click the OK button at the bottom of the camera registration screen to finalize all changes (Figure 4)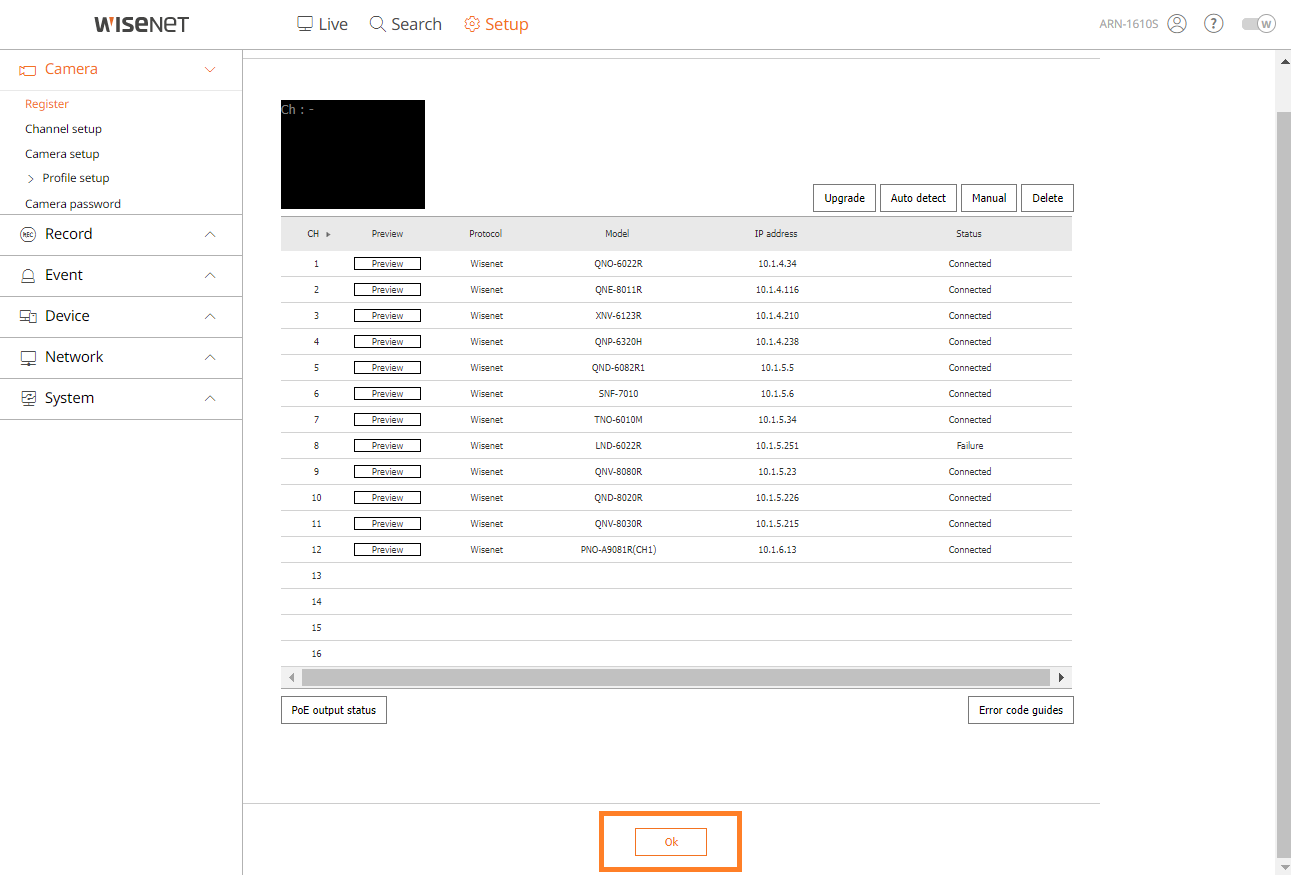 Figure 4