Applies to Models: XNP, and PNP series PTZ cameras
To maintain standards, Hanwha Vision America uses the web UI for all knowledge base articles about product configuration. Open Chrome, enter the IP Address of your device into the URL bar, and press enter. If you are not using the web UI to configure your device, please refer to the user manual for your product.
Summary:
Auto Tracking is defined as the capability of a PTZ device to track and follow moving objects automatically, managing the camera pan, tilt & focus features. This feature can be used in multiple scenarios; the most common application is surveillance or large areas such as parking lots or stadiums; it is also widely used in the education & retail industry as a tool to track subjects & monitor consumers' behavior.
Step By Step Guide:
1. Open your Browser
2. Enter the IP address of the camera
3. Press Enter
4. Log in to the camera
5. Click on the Gear at the top of the window (Figure 1)

Figure 1
6. Go to PTZ (Figure 2)
7. Select PTZ setup (Figure 2)
8. Position the camera using the on-screen control stick (Figure 2)
9. Click Set Preset (Figure 2)
10. Name your Preset (Figure 2)
11. Click on Follow up action (Figure 2)
12. Select Auto tracking>Auto run (Figure 2)
NOTE: With this setting Auto Tracking is the Primary function
and Auto run will follow once Auto Track disengages
13. Set your Tracking time (Figure 2)
14. Go to Menu is not used in this procedure (Figure 2)
15. Click Apply (Figure 2)
NOTE

: Repeat steps 6 to 15 until you have all of your preset
positions entered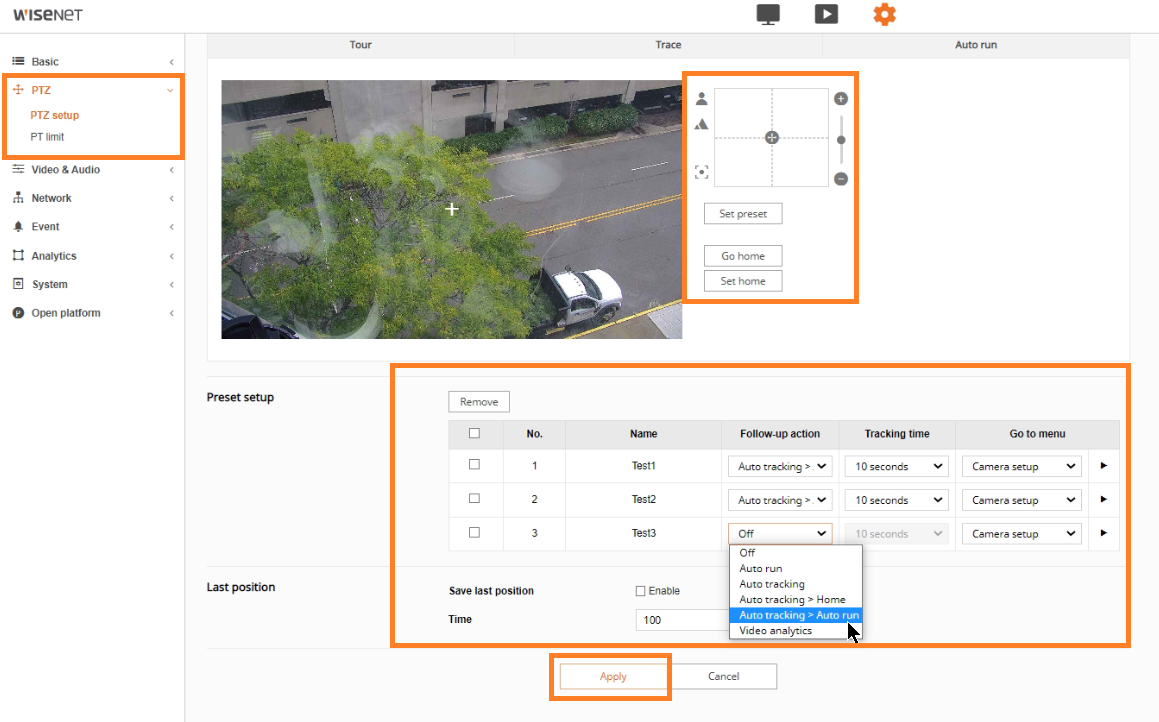 Figure 2
16. Click on the Group tab (Figure 3)
17. Assign your Presets to Group 1 (Figure 3)
18. Click Apply (Figure 3)
19. Set your Speed
NOTE

: The Speed setting is how fast the camera traverses from one preset
to another. 64 is almost instant, try using 40 and tune the movement to 
your preference
20. Set your Dwell time
NOTE: Dwell time is how long the camera remains at the preset in question
21. Click Apply
22. Go to Analytics (Figure 3)
23. Select Motion Detection (Figure 3)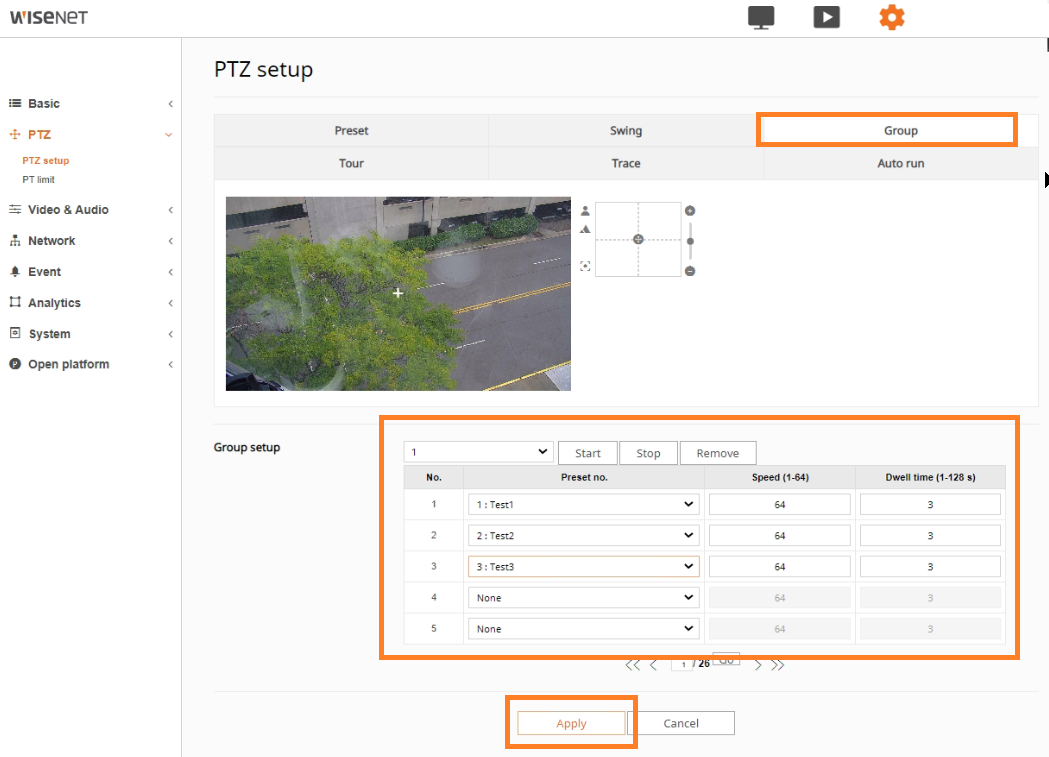 Figure 3
24. Check Enable Motion Detection (Figure 4)
25. Draw an area on the Included tab (Figure 4)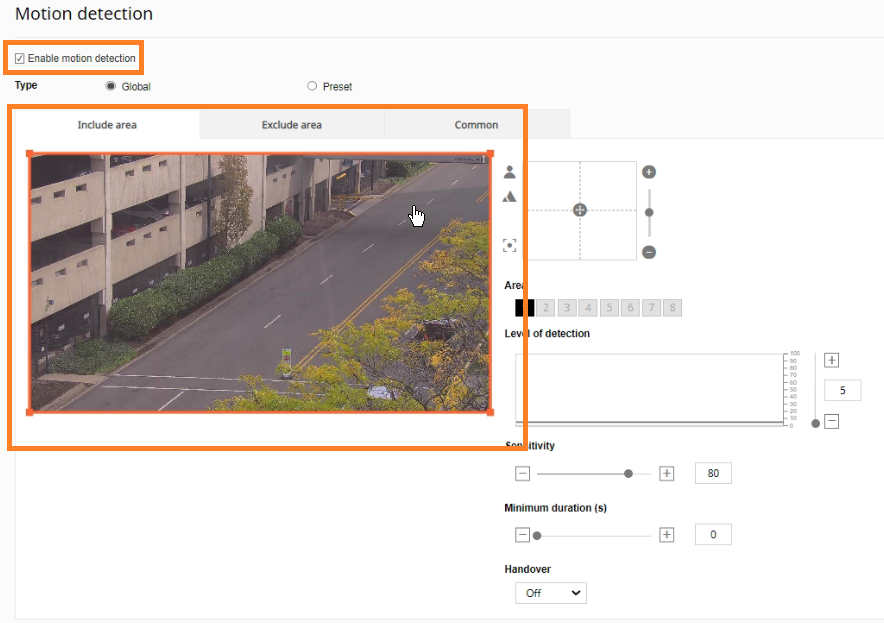 Figure 4
26. Go to the Common tab and Make sure the blue min box is not bigger than your intended target(s)
27. Select Auto Tracking (Figure 5)
28. Set your Camera Height (Figure 5)
NOTE: The height of the camera plays an important role in how
the camera determines range to target. The Min Height is 2.5 
meters, the max is 30 meters
29. The options of Zoom, Maintain Object Size, Display indicator, and Excluded Area are optional
(Figure 5)
NOTE: 
Zoom: Zooms in on the target
Maintain Object Size: Will try to keep the object the same size
for the duration of auto tracking
Display indicator: Puts a white box around the target
Excluded Area: Shows your configured Exclusion Area
30. Check Auto Release (Figure 5)
31. Click Apply (Figure 5)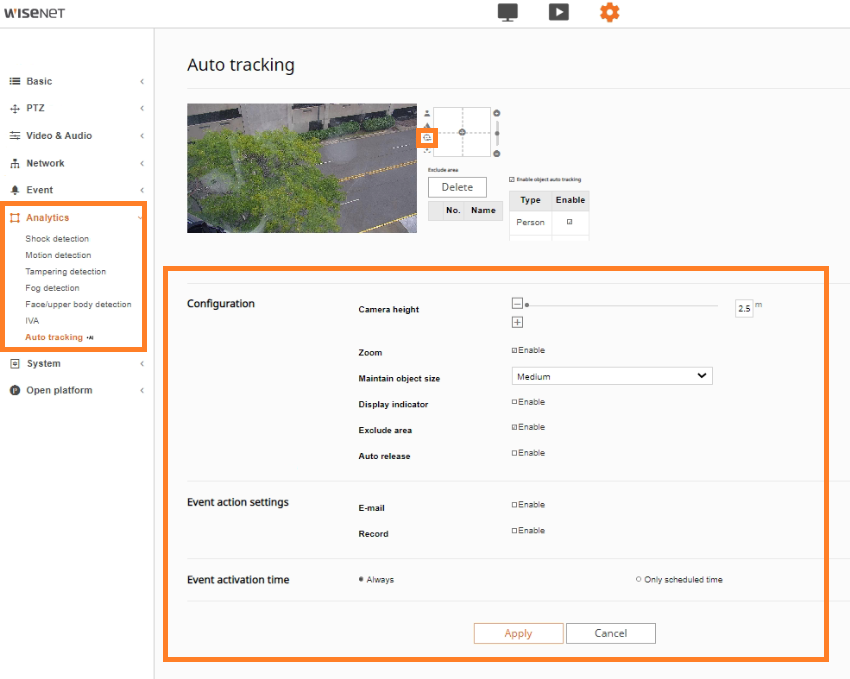 Figure 5
32. Click Enable Object Auto Tracking (Figure 6)
33. Check Vehicle, Person, or Both (Figure 6)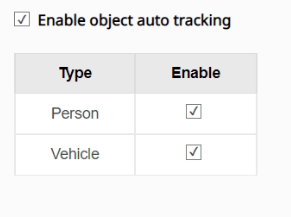 Figure 6
34. Click Apply at the bottom of the screen
35. Click the Cross Hair symbol next to the preview window to enable Auto tracking (Figure 7)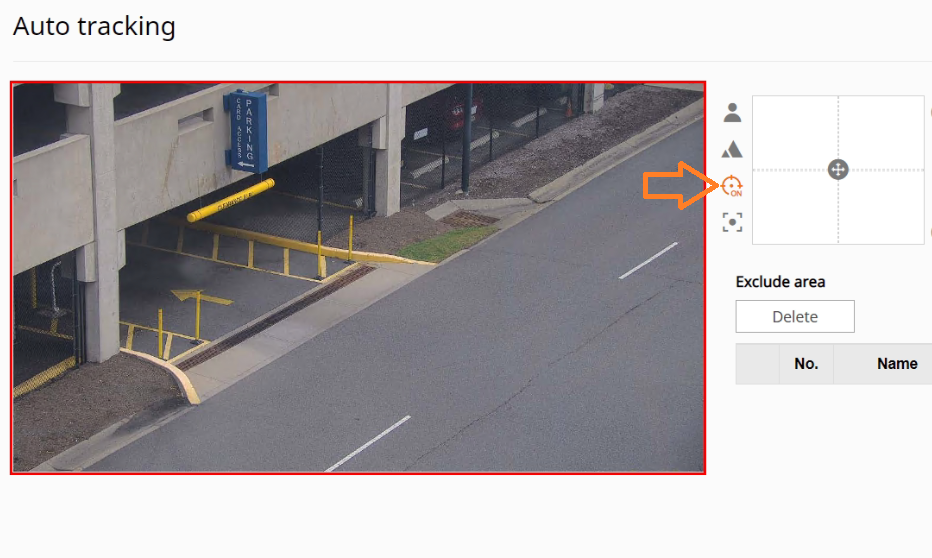 Figure 7
37. Click on PTZ (Figure 8)
38. Click on PTZ Setup (Figure 8)
39. Click on AutoRun (Figure 8)
40. Set the Mode to Group (Figure 8)
41. Set the time (Figure 8)
NOTE: This time refers to how long the camera waits before the AutoRun goes 
through the Group you have assigned
42. Set the Group to 1 (Figure 8)
43. Click Apply (Figure 8)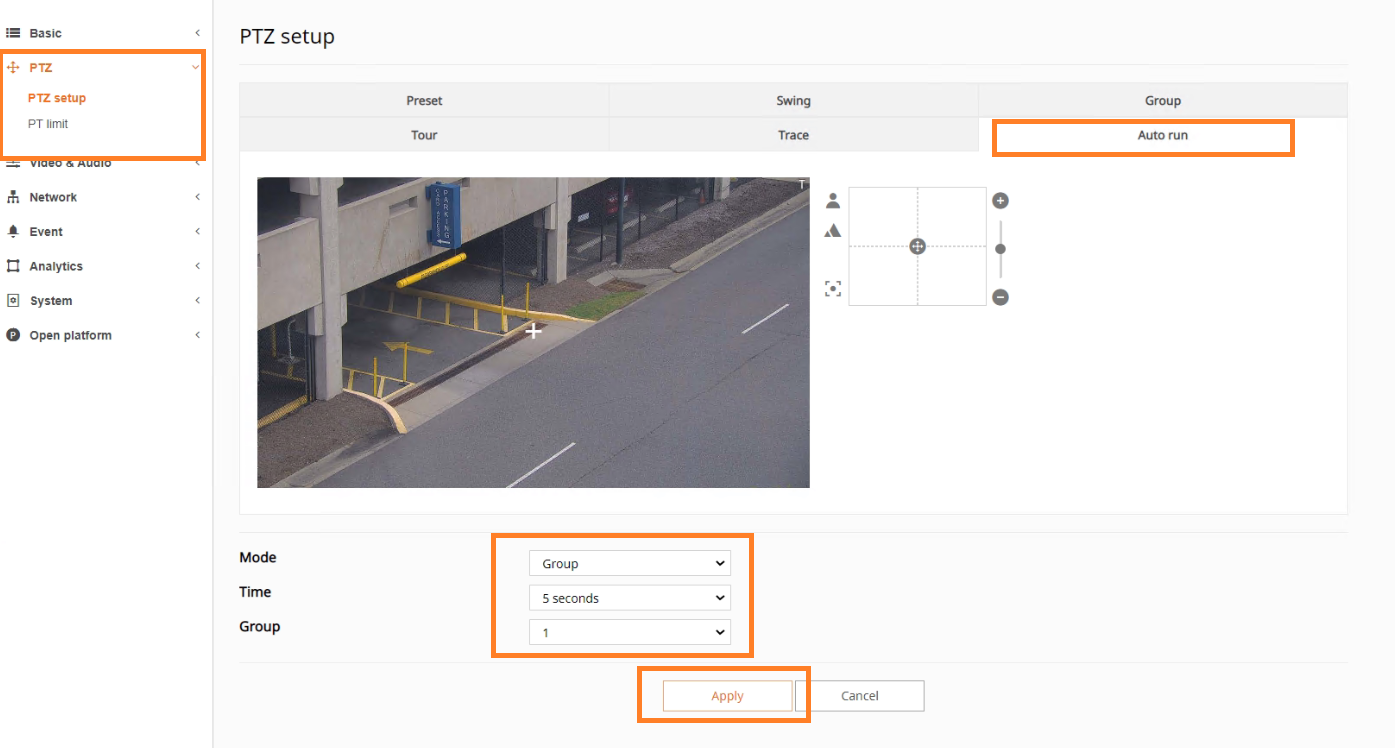 Figure 8
.