There are five predefined user roles in Wisenet WAVE:
•Owner (uses "admin" login). This user has unlimited System privileges and cannot be deleted. Can create and modify Administrators, and can merge Systems and link or unlink to WAVE Sync accounts.
•Administrator. In addition to Advanced Viewer permissions, this user has full control of System configuration, but cannot change any Owner settings, cannot delete or change their own role, and cannot create or edit other Administrators. Only an Owner or Administrator can define a shared layout.
•Advanced Viewer. In addition to Viewer permissions, can also see and run PTZ positions and PTZ Tours, use 2-way audio, operate I/O Module buttons, create and edit Bookmarks, and view the Event Log.
•Viewer. In addition to Live Viewer permissions, can view and export archive and Bookmarks, and trigger a screen recording.
•Live Viewer. These users can view live videos in specific layouts to which they have been assigned access. They can also view all I/O Modules, view all web pages, and monitor the health status of all servers.
•All users can change their own password and by default have access to all cameras.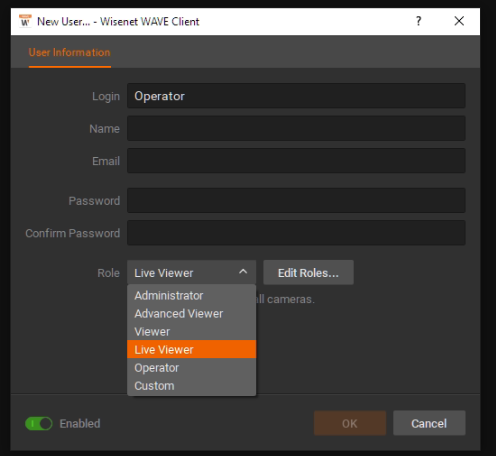 Typically, the Owner or Administrator creates and configures layouts for the various viewer levels. Viewers log into Wisenet WAVE and can only work with the layouts and devices they have been assigned.
It is also possible to create Custom Roles so that specific permissions can be assigned to an individual or a group of user.
IMPORTANT: Because permission assignments are so flexible, any given action or resource may not be available to a given user or User Role. Many of the features and functions described in this guide will only be available to users with the appropriate permission level.