Applies to Models: All Hanwha devices with analog I/O capability
Summary:
All or most of Hanwha's cameras, encoders, and recorders use solid-state relays. In some field applications where the adjoining device does not interface well with the solid-state relay output, you may need to use an RBSN-TTL or an equivalent device.
Explanation of Behavior:
The output on Wisenet IP cameras is very low-level, so it cannot connect directly interface to a third-party device like a strobe or connect directly to an intrusion or access control panel. An Altronix RBSN-TTL will convert the low-level output to a form C relay for switching power to a device or changing the input state on another system. It is also readily available at most Distributors off the shelf.
Resolution:
The Altronix RBSN-TTL does need a third-party power source, either 12 or 24VDC. Altronix sells these power supplies, and it only needs 45ma, so it is very low power (Figure 1)

You can power multiple RBSN-TTL's from a single power supply

It is critical to wire the Camera Ground wire to the NEG- terminal for common ground. Because this is a "pull to earth ground," the module does not need to be directed at the camera. In field testing, it worked 250' from the camera using a 22awg two-conductor cable (Figure 1)

There are other low-level relay output modules online, such as an SRD-12VDC-SL-C, that also work.

For this module, ensure to move the jumper from the H position to the L position for a Low-Level Input.

Also, check the Ground wire from the camera to the DC- terminal so the devices have a common ground; otherwise, it will likely fail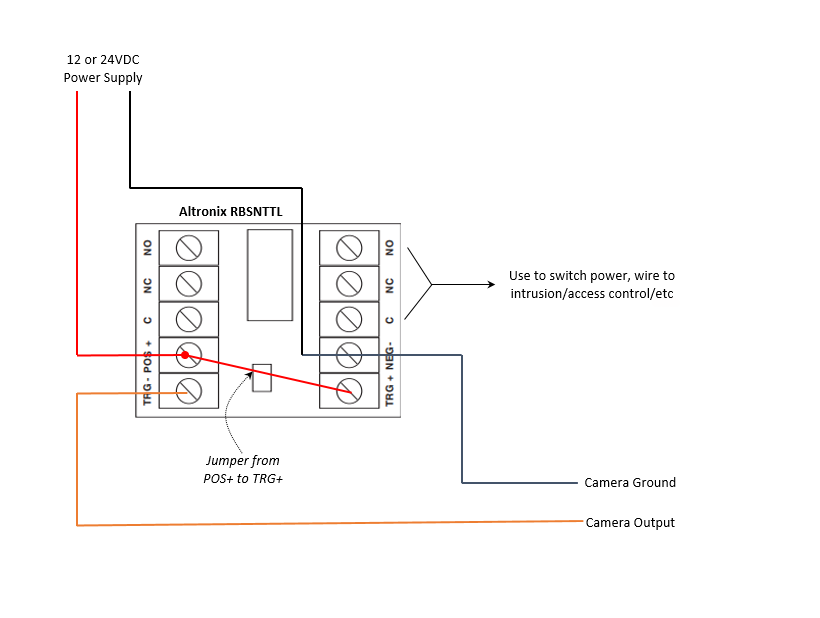 Figure 1