The best way to receive alerts from a unattended NVR is through the e-mail notification feature. There are two steps to this procedure. The SMTP and the Recipient must be configured on any of our NVRs'.
SMTP
SMTP (Simple Mail Transfer Protocol) is an application-layer protocol that enables the transmission and delivery of email over the Internet. It is the standard protocol for email services on a TCP/IP network. SMTP provides the ability to send and receive email messages.
To setup SMTP: go to SETUP> NETWORK> E-MAIL> SMTP
1. Identify the Server Address (SMTP Server URL). For example, Gmail accounts are smtp.gmail.com, Yahoo accounts are smtp.mail.yahoo.com, for outlook accounts are smtp-mail.outlook.com. These SMTP addresses can simply be looked upon your search engine or e-mail provider.
2. The port numbers are set accordingly to the type of Secure Transfer. If it's set to TLS, most e-mail providers utilize the port# 587. TLS is a protocol that provides communication security between client/server applications that communicate with each other over the Internet. Most users choose TLS for stronger encryption algorithms than SSL.
If it's set to "Never", most e-mail providers will use 465 for SSL for standard encryption and port 25 for unsecured connection. It is not recommended to use the default port 25 because it may be blocked by ISP or by the Administrator due to SPAMS or security breaches.
The default SMTP ports may change, so it's best to ask the Network Administrator for detailed information.
3. Apply the e-mail user ID and its Password.
4. Select the Secure Transfer Type.
5. Lastly, choose the Sender to receive the test E-mail, then click on E-mail Test.
The image below is for Secure Connection with TLS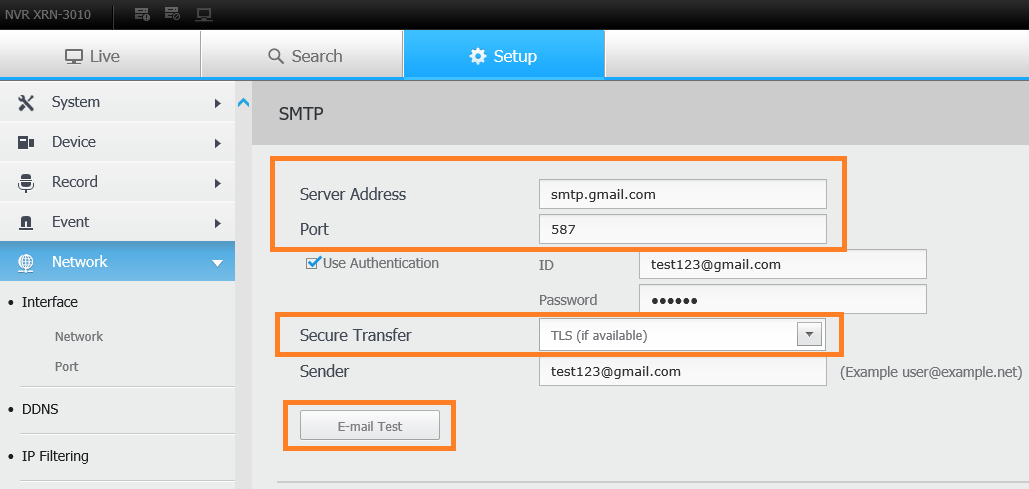 The image below is for Less Secure Connection with SSL or None with port 25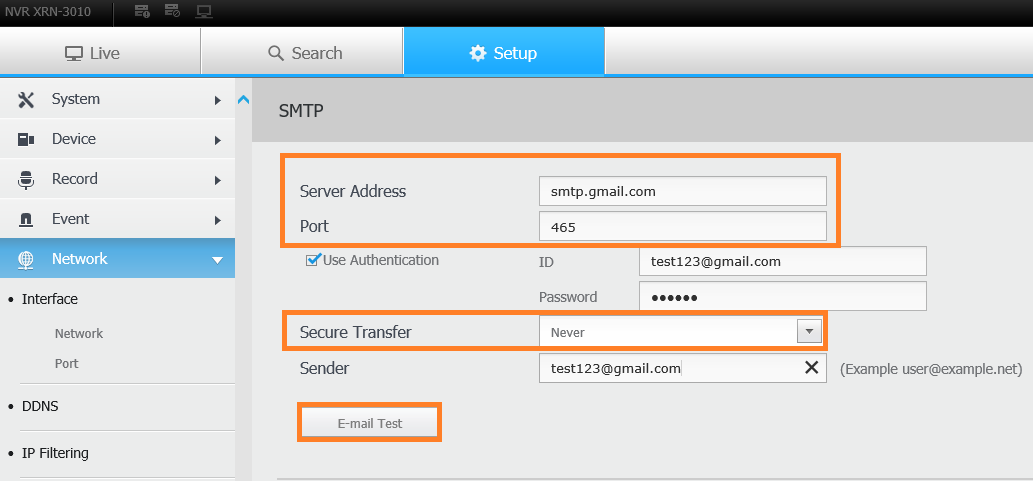 RECIPIENTS
Once you have received a successful test e-mail in your inbox; then you can move on to configuring Recipient. It is located in the same E-mail setup.
Recipient settings will allow you control who is receiving the E-mail notifications and the type as well.
1. The Group must be the first thing to create before adding recipients. The type of permissions must be set for each group in order for the e-mail users to receive the correct notifications. Any exclusion will lower the number of alerts.
2. Add the recipient and over to the right, the Group needs to be selected. Then lastly, the Name and E-mail of the recipient will be needed.