By default, PoE NVRs are set to connect directly to IP cameras. In cases where the PoE ports are connected to other network switches, the NVR must be put in Manual mode.
In addition, the PoE ports are set to "Isolated" mode, where each device can only communicate with the NVR and not each other. This is a security feature to prevent rogue devices from accessing other devices on the network. This will prevent a connected PC from accessing IP cameras for setup changes.
If you are uplinking non-camera devices to the PoE ports, such as switches, media converters, PCs, etc., you MUST set the NVR to Manual mode.
From the setup menu of the NVR, navigate to System > System Management > Settings.
Set the Switch Mode to Manual Setup Mode, and click the Apply button. If you wish to save some of the settings to speed up setup, check the Not Included options of User, Camera, and/or Network as needed.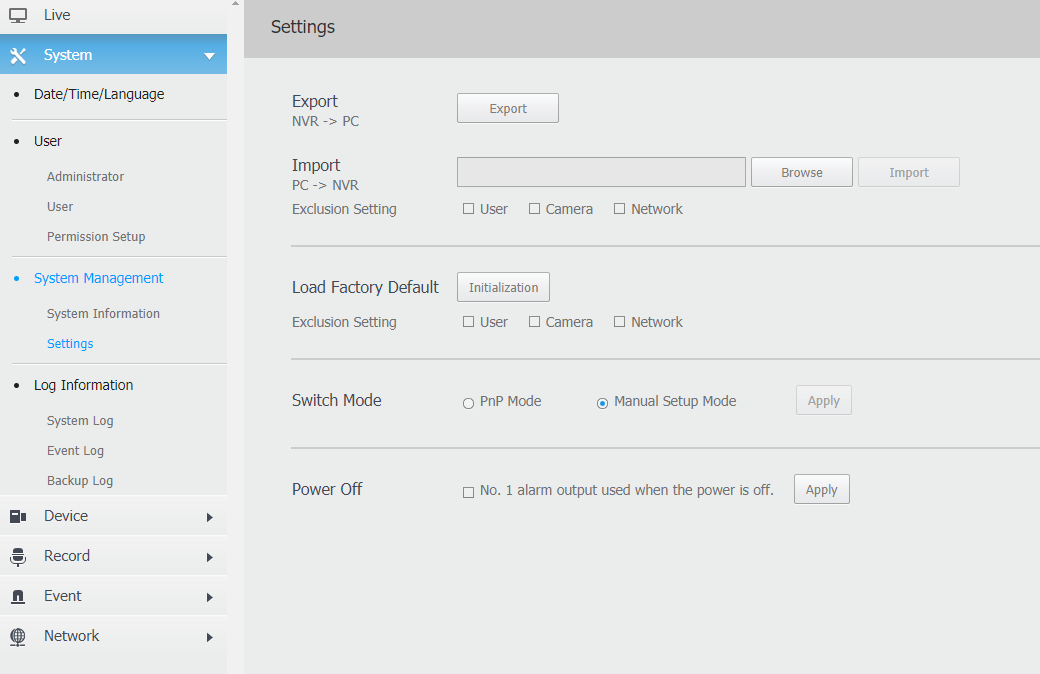 Please note that older firmware required the unit to be factory defaulted. Certain configuration items could be retained by selecting the various checkboxes. It is recommended to upgrade the unit to the latest firmware prior to changing modes if a factory default is required, to prevent needing to re-configure the unit.