Applies to Models: PRN NVR's
Summary:
This guide assumes the person configuring the NVR already has some knowledge of Hanwha cameras and recorders. Camera models able to utilize AI on the PRN recorders include most P series, most X series and generation 2 Q series cameras that have IVA. Q series cameras, like the QND-8011, do not have IVA and will not be able to provide AI functionality.
Step By Step Guide:
Ensure that IVA is enabled on the camera, nothing else needs to be configured it just has to be enabled. (Figure 1)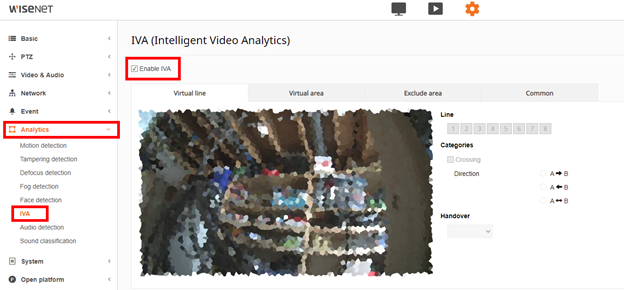 Figure 1
In the PRN under Event > AI Engine cameras that are able to perform the AI functionality will be listed. Enable Object Detection and AI Recognition as needed here.
Note: The PRN can only handle so many AI streams which is graphically represented. (Figure 2)

Figure 2
Under Event > AI Engine > Object Detection select the objects to detect and if best shot is needed. Best Shot is required for using the AI search. Add any exclusion areas required. Adjust sensitivity as needed. The higher the sensitivity the more potential there are for false detections. (Figure 3)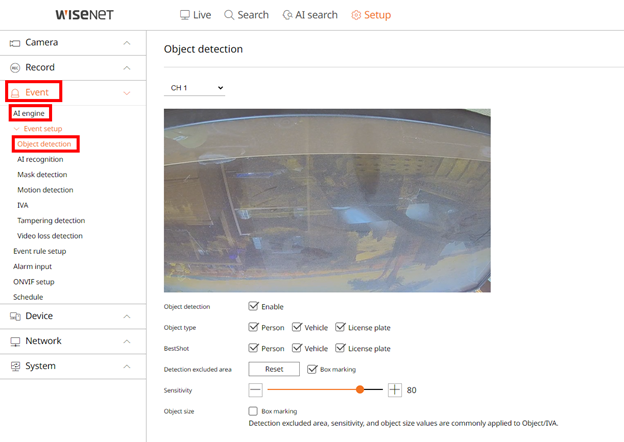 Figure 3
In the same setup area select Box Marking and adjust the minimum and maximum object size by left clicking the corner of the box and adjusting. Minimum size should be slightly smaller than the smallest object to trigger and the maximum should be slightly larger than the largest. (Figure 4)
Note: Making the minimum object size too small can increase the potential for false detections.
Figure 4
Under Event > Event Rule Setup enable the default motion rule, if not enabled, and create a rule for Object Detection on the cameras with detection setup and the schedule it will detect. Default is Schedule 1 which is 24/7. No Event is needed. (Figures 5 & 6)

Figure 5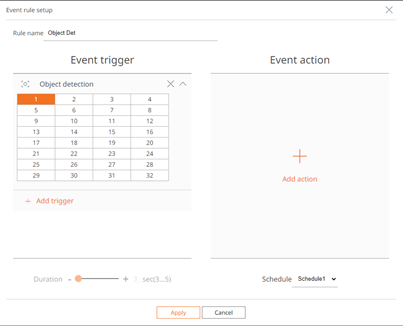 Figure 6