Applies to Models: SDH-C76167BF, SDH-E95127BF, SNK-B73047BW, SDH-B74086BF, SDH-B94047BF, SDH-C94087BF, SDH-C85127BF, SDH-C84085BF, SDH-B84045BF, SDH-C85105BF, SDH-C84080BF, SDH-C75083BF, SDH-B73043BF, SDH-C85080BF, SDH-SF440, and SDH-B74043BF
Summary:
To playback and review past recordings from the DVR/NVR. Playback can be done by using the remote control or mouse connected to the unit.
Step By Step Guide:
1. Access the DVR menu by clicking on the three lines at the bottom left of the screen.
2. Click on Search
3. If prompted, enter the login credentials for your DVR.
4. Select the desired date from the calendar by double clicking on the day.
5. Click on the channel you wish to playback. (Figure 1)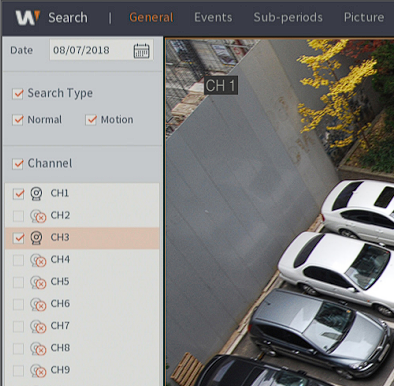 Figure 1
Note: A maximum number of 4 channels can be selected simultaneously on an 8 channel system;
8 channels on a 16 channel system
6. Utilize the playback controls at the bottom of the screen. (Figure 2)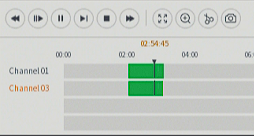 Figure 2