Applies to: WAVE client and server software
Summary:
There are multiple ways of updating WAVE VMS. WAVE may have a few patch releases in between the official releases. The software will not automatically update to the patch version but can be easily updated with a few simple steps.
When the client or server is not the same version, you are prompted to run in compatibility mode. (Figure 1)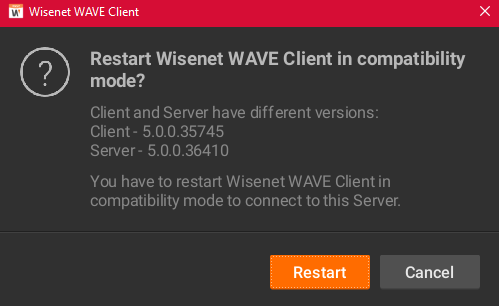 Figure 1
Note:  Before performing any update, always backup your system and export your licenses.

Step By Step Guide:
In-Client Upgrade Method:
Make sure to get the build number and password from https://wavevms.com/ or a support agent. (Figure 2)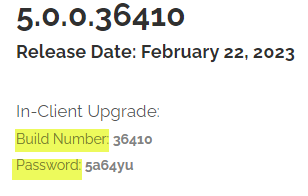 Figure 2
Open the WAVE application from your server or client pc.
Go to ≡ System Administration -> Updates
On the top left, there's a drop-down menu to select "Specific Build..." (Figure 3)
In the pop up window, input the correct build number and password that was obtained from our website or support and click Select Version. (Figure 3)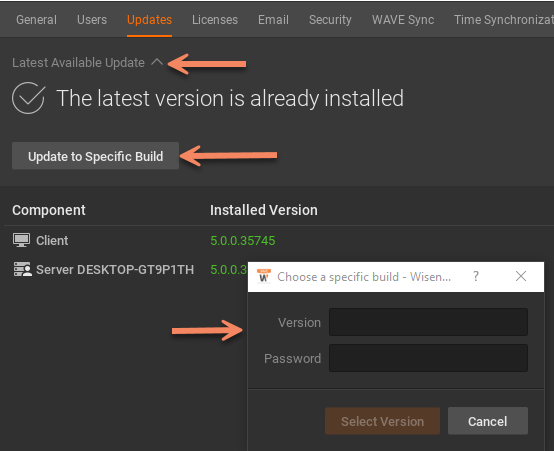 Figure 3
You need to select Download, then select Install Update (Figure 4)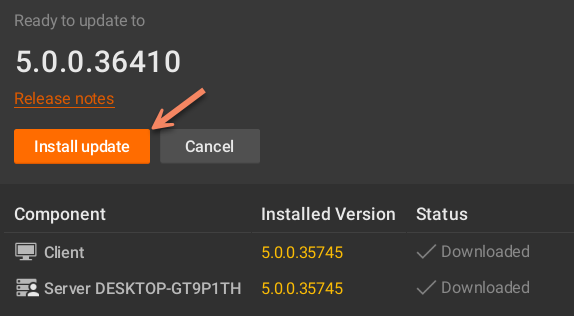 Figure 4
When the update is complete, it will restart the WAVE server process and client. (Figure 5)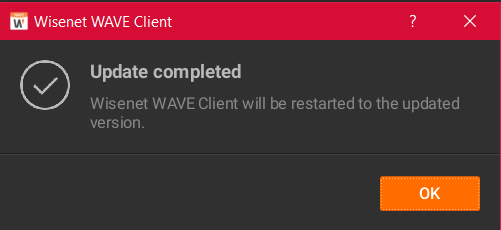 Figure 5
Offline Update Method:
Make sure to download the update file from a workstation with an internet connection by doing the following. (Figure 6)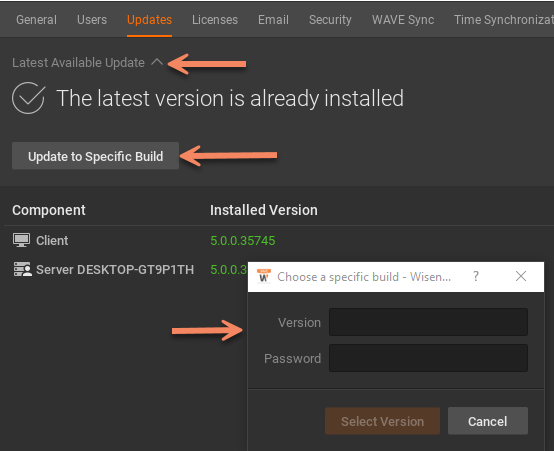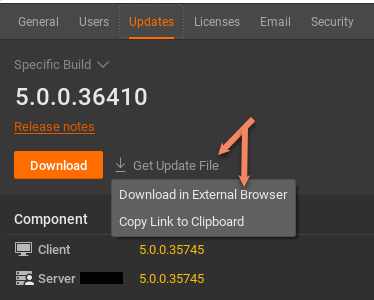 Figure 6
This will download a .zip file to your browser's Downloads directory: (Figure 7)

FIgure 7
Once downloaded, go back to Specific Build and choose Browse for Update File (Figure 8)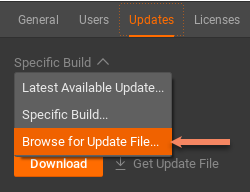 Figure 8
Select the .zip file in your Downloads directory (Figure 9)

Figure 9
Select Upload (Figure 10)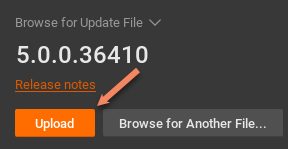 Figure 10
Select Install update (Figure 11)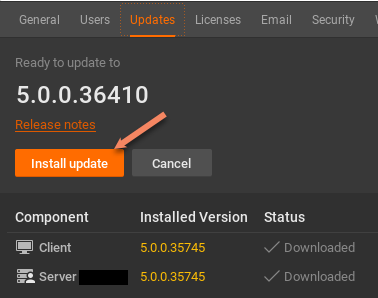 Figure 11
The installation will begin. When completed, the server will restart closing your client window and reopening it. (Figure 12)

Figure 12
SINGLE SERVER SYSTEMS
Single server systems are systems that have only one instance of the WAVE media server application running. You can update the system with either of the methods explained above.
To Upgrade: Download the WAVE server-only installation package for your device's operating system from https://wavevms.com/ and follow the installation wizard. This will upgrade the software in-place.
MULTIPLE SERVER SYSTEMS (Merged Systems)
Simply follow the steps above. Each server in the system will be updated and the media server will be restarted. Wait for all of the servers to complete installation and verify the status. The client will also be updated to the latest version. Once the update is complete, the client will restart with the new version. You can then check the version of each server. All clients will be prompted to update their software to the latest version the next time they connect to the system.